English lessons for adult beginners and children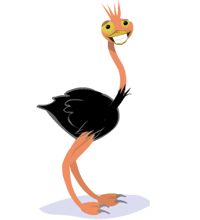 Because not everyone makes progress at the same rate, the Rich Morning Show adapts to suit each student's needs. Every lesson is generated specifically for you, taking into account the answers you've given in the past and the things you find difficult.
The Rich Morning Show is designed for adults who are beginning to learn English, or who have already studied a little English in the past. It is also a great way for young children to learn English. The AI engine builds lessons to suit your level, allowing you to revise and improve your English. The lessons are funny, to help you stay motivated. The characters are played by professional actors with a wide variety of accents (American, British, Australian, Asian, South American, etc).
---

Gymglish has been an official partner of the French Education Ministry since 2007.
---
Training program
The Rich Morning course have four distinct stages:
Round 1 : 21 personalized lessons with cartoons played at reduced speed, with subtitles . The first stage includes 21 lessons, each based on an animated episode of the Rich Morning Show. Each lesson is comprised of a cartoon (lasting two minutes on average), a selection of questions about the day's show, and a personalized correction e-mail (once you send your answers to the questions). From the second show onwards, the lessons also focus on particular English points which the student struggles with.
Round 2 : 21 personalized lessons with cartoons played at normal speed, with subtitles . In the second round, the shows are watched again at a more normal speed, but still with subtitles. The characters speak at a natural speed, just like in real life. The questions on each show are based on how well the student did in the first round.
Round 3 : 21 personalized lessons with cartoons played at normal speed, without subtitles . The principle remains the same, but this time there are no subtitles. Like in Rounds 1 and 2, each lesson zooms in on particular points covered in the past with which the student has struggled.
Revision : Once the three Rounds have been completed, we begin a final phase, which helps the student to retain all the English that they've learnt. We revise all the topics covered in previous lessons, to make sure that the student has mastered all the points introduced in the earlier phases of the course.